JUSTICE FOR ATHENA – Book Three
It's festival time in Athens and Philocles is looking forward to the holiday. Visitors are coming from across the Hellenic world for eight days of sporting competitions, musical contests and sacred rites to honour Athena, the city's patron goddess.
Thousands will flock to the Pnyx to be enthralled by the dramatic three-day performance of Homer's Iliad, an entertainment unique to the Great Panathenaia. Taking part is the highest honour and greatest challenge for an epic poet. Then one of the poets is brutally murdered.
Is this random misfortune, an old score being settled, or is someone trying to sabotage the festival? The authorities want this cleared up quickly and quietly. Philocles finds himself on the trail of a killer once more…
SCORPIONS IN CORINTH – Book Two
The Persian War is over and wealthy Athenians are looking to expand alliances overseas.
Popular playwright Philocles and his actors are hired to take his latest play to Corinth, to promote goodwill between the two cities. But on arrival, their guide and fixer Eumelos drops dead – a victim of poisoning.
Philocles is convinced someone is out to sabotage the play, and to find out who – and why – he must first uncover the murderer.
But in Corinth the ruling oligarchs seem more interested in commerce than justice. And with its brotherhoods and local gangs pursuing their own vicious rivalries, asking the wrong questions could get an outsider like Philocles killed . . .
SHADOWS OF ATHENS – Book One
443 BC, and, after decades of war with Persia, peace has finally come to Athens. The city is being rebuilt, and commerce and culture are flourishing.
Aspiring playwright Philocles has come home to find a man with his throat cut slumped against his front gate. Is it just a robbery gone wrong? But, if so, why didn't the thieves take the dead man's valuables? With the play that could make his name just days away, he must find out who this man is, why he has been murdered – and why the corpse was left in his doorway.
But Philocles soon realises he has been caught up in something far bigger, and there are those who don't want him looking any further . . .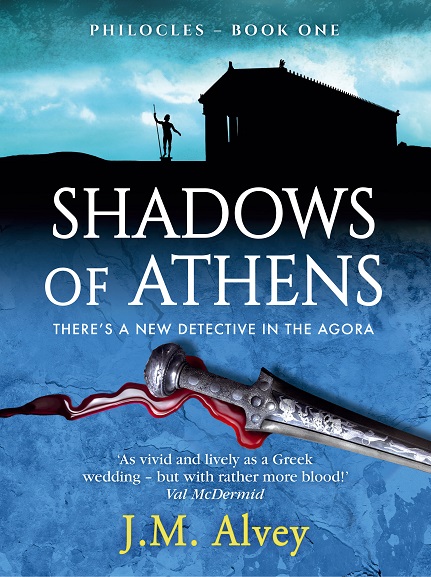 REVIEWS
"There is a new star in the classical firmament. Philocles is engaging, inspiring and feels absolutely real. This is historical writing at its best and crime writing worthy of prizes. Riveting"
(Manda Scott, author of the Boudica series)
"Historical sleuthing finally gets its grown-up trousers. The book's got wit and knowledge and the winning knack of immersing the reader in ancient Greece and the whole theatrical scene there. It shows a thorough understanding of time and place, and has a dark heart of thuggery and murder. Finally, someone has taken on Saylor and Davis and brought us out of Rome at last!"
(Robert Low, author of the Oathsworn series)
"If you like C J Sansom's Tudor sleuth Matthew Shardlake, you'll love this – a gripping murder mystery set in a fantastically fully-realised ancient Athens, which will keep you guessing to the very end"
(James Wilde, author of HEREWARD and PENDRAGON)
"Historical crime writing that virtually reinvents the genre. Ancient Athens is recreated with a masterly touch, while the beleaguered Philocles is the perfect protagonist to lead us through this vividly evoked menacing world."
(Barry Forshaw, Financial Times crime critic)
"I loved it; great sense of place, terrific characters and a cracking plot."
(Joanne Harris, author of CHOCOLAT)
"As vivid and lively as a Greek wedding – but with rather more blood!"
(Val McDermid, author of the Kate Brannigan Mysteries)
"Intriguing . . . a refreshingly different setting portrayed with a convincing air of authenticity. I hope it's the first of many."
(Andrew Taylor, author of ASHES OF LONDON)
"It's about time someone did for ancient Athens what Lindsey Davis' Falco novels do for Ancient Rome. Alvey sets the scene perfectly, with easy brushstrokes and lightly worn learning. In Philocles we have an aspiring playwright, man of the people and reluctant detective. I look forward to his next case…"
(Jack Grimwood, author of MOSKVA)
"Alvey has combined the best features of a crime novel and a work of historical fiction. The result is a pacy, exciting and intelligent story set in a rich world overlooked by most modern novelists. The plot is clever and solidly rooted in history, the characters vivid, sympathetic and lifelike and the world of Athens is gloriously recreated. Best of all, for me, while Shadows of Athens is taut and historically detailed, it also displays a quirky sense of humour – [I] loved it."
(Simon Turney, author of CALIGULA)
"The historical detail is excellent, and the story and characters expertly spun out – a very entertaining and satisfying read."
(Glyn Iliffe, author of The Adventures of Odysseus series)